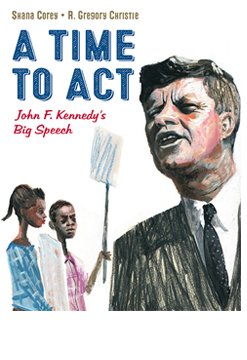 A Time To Act: John F. Kennedy's Big Speech
Illustrated by R. Gregory Christie
Acclaimed author Shana Corey and New York Times Best Illustrated, Caldecott Honor and Coretta Scott King Honor–winning artist R. Gregory Christie deliver a fresh look at President John F. Kennedy and his relationship with the civil rights movement.
From prominent leaders such as Martin Luther King, Jr. and Jackie Robinson to children and teenagers, it was the people speaking out and working for civil rights through sits-ins, freedom rides, and marches who led John F. Kennedy to take a stand.

And with his June 11, 1963, civil rights address, he did. 

This is the story of JFK—from his childhood to the events that led to his game-changing speech and the Civil Rights Act of 1964. Corey and Christie offer a deeply human look at our country's thirty-fifth president, underscoring how each one of us, no matter who we are, have the power to make a difference.

With quotes from JFK's speeches, detailed back matter, and a thought-provoking author's note, this biography—in time for what would be JFK's 100th birthday—offers a sensitive look at a tumultuous time in history and compelling questions about effecting positive change today.
Click here to view the trailer! 
What People Are Saying:
• A Junior Library Guild Selection
★ "On June 11, 1963, President John F. Kennedy gave an eloquent speech in which he made a plea for civil rights for African Americans. He was lauded for his blunt but sincere appeal to ensure equality for all Americans. Corey begins with biographical information on Kennedy….  The text then segues into the struggle of African Americans to achieve civil rights, detailing the ardous work of sit-ins, marches, and Freedom Rides. Finally, the story returns to Kennedy's 1963 speech…the book points out that Kennedy was, for political reasons, hesitant to take action, thus providing a contrast between the man who wrote Profiles in Courage and the politician in the White House. Christie's impressionistic illustrations are poignant. A dynamic addition for U.S. history collections."— School Library Journal, Starred review
★ "This picture-book biography of John Kennedy's life, which celebrates his one-hundredth birthday, focuses on his hesitations and then help with the civil rights movement. The dramatic and innovative illustrations beautifully capture a place in time and the people who inhabited it. The back matter is powerful addition to a most thoughtful book."—Booklist, Starred review
"An engaging picture book biography primarily focused on the former president's evolution on the topic of civil rights. Corey adeptly contextualizes Kennedy's eventual arrival at action . . .  and his historic antidiscrimination speech that set the stage for the Civil Rights Act of 1964. An empowering conclusion."—Publishers Weekly
"A story of John Kennedy's short but historic life that rings with truth and excitement. Readers of all ages… will appreciate this moving lesson in American history." —Senator Harris Wofford, Special Assistant on Civil Rights to President John F. Kennedy
"Reading this made me feel as if I was there in Birmingham with the children." —Lynda Blackmon Lowery, author of Turning 15 on the Road to Freedom: My Story of the Selma Voting Rights March
"A well-crafted book that respects the complex president Kennedy was, respects child readers, and respects the sometimes thorny intricacies of conviction."—Jules Danielson, blogging for Kirkus Reviews
Order Here:
For additional resources and information on A Time to Act, including a discussion guide, primary source documents, and videos, check out the Extras page!