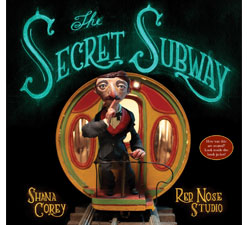 The Secret Subway
Illustrated by Red Nose Studio
Discover the fascinating, little-known—and true!—story of New York City's first subway.
New York City in the 1860s was a mess: crowded, disgusting, filled with GARBAGE! You see, way back in 1860, there were no subways, just cobblestone streets. That is, UNTIL  inventor and MAKER Alfred Ely Beach had the idea for a fan-powered train that would travel underground. On February 26, 1870, after fifty-eight days of drilling and painting and plastering, Beach unveiled his masterpiece—and the rest is history! Afterall, sometimes it just takes one idea to get things rolling!
The Secret Subway will wow readers, just as Beach's underground train wowed riders over a century ago.
Click here to view the trailer!
What People Are Saying:
• 2018 Sakura Medal list
• A  Maryland Blue Crab Young Reader Award Honor Book
• A Bank Street College of Education's Best Children's Book of the Year
• A  Wisconsin State Reading Association Children's Book Award Nominee
• A 2017-2018 Pennsylvania Young Reader's Choice Award Nominee
• A Utah Beehive Award for Children's Books Nominee
• A Notable Social Studies Trade Books for Young People 2017
• A National Science Teachers Association Best STEM Book 2017
•A National Science Teachers Association/Children's Book Council Outstanding Science Trade Book 2017
• New York Public Library's 100 Best Books for Kids 2016 list
• A 2016 Nerdy Book Club Nerdy Winner for Nonfiction Picture Books
• An Amazon's Best Children's Books of 2016
• A Junior Library Guild Selection
• An Indie Next Pick
• An Amazon Nonfiction Best of the Month
★ "A long-forgotten chapter in New York City history is brilliantly illuminated. Here is science, history, suspense, secrecy, and skulduggery in action. Corey's narrative is brisk, chatty, and highly descriptive, vividly presenting all the salient facts and making the events accessible and fascinating to modern readers. The incredibly inventive multimedia illustrations match the text perfectly and add detail, dimension, and pizazz. Located on the inside of the book jacket is a step-by-step guide to the creative process behind these remarkable illustrations. Absolutely wonderful in every way." –Kirkus Reviews, Starred Review
★ "Corey's absorbing story of New York City's ill-fated first subway provides an ideal venue for the sculptural artistry of Chris Sickels, aka Red Nose Studio….Corey's account sheds light on the way that commonplace institutions are often preceded by false starts, error, and scandal." —Publisher's Weekly, Starred Review
★ "The Sidewalks of New York" already dripped nostalgia when the song was penned in the 1890s, and decades earlier, pedestrians would has been hard-pressed to trip the light fantastic on their traffic-tangled, refuse-strewn street system.  Corey's narration brings plenty of sparkle to a story built on stealth and shadows. A readaloud tour de force. Any kids (or overinvolved parents) who have attempted dioramas for school assignments will recognize the gold standard here and bow down in the presence of genius." —The Bulletin of the Center of Children's Books, Starred Review
"In "The Secret Subway," the artist known as Red Nose Studio (real name: Chris Sickels) continues to expand the possibilities for creative approaches to illustrating history. Staggering. Astounding.  The gritty magnificence . . .  cannot be overstated. Do remove the jacket and be treated to a step-by-step description of Red Nose Studio's process." —New York Times
"Keen artwork combines with inviting language, illuminating an obscure part of New York City's history. Perfect for young subway enthusiasts." —School Library Journal
"Astounding.  The Secret Subway is not only a visual extravaganza, it's an inspiring story of can-do spirit, good old-fashioned gumption and a fun peek below the surface of New York City," — Shelf Awareness
Order Here:
For additional resources and information on The Secret Subway check out the Extras page!